That's right not only can you win big cash prizes for yourself but you will also be raising money for the charity behind all the fun Comic Relief.
Where to play
Sign-up Bonus
Visit Site
Get £20 FREE, just for signing-up.
must be over 18 to play
Comic Relief has partnered with leading bingo site Jackpotjoy to launch the official bingo game for Red Nose Day. The exclusive 90 ball bingo room gives you more chances to win with a £250 super jackpot when you complete your card in less than 48 calls.
With tickets only costing 10p to play and a game every 5 minutes there are lost of opportunities to raise money and win playing Red Nose Day Bingo.
Best of all 100% of the profits from the official bingo game will go to Comic Relief which will help and change the lives of thousands of people in the UK and also across Africa.
So why not, stick on your red nose get behind your computer and have a "feel good flutter" playing the nation's favourite online game and raising money for a superb cause.
Just to prove what a lucky game this is, I played RND Bingo online and I won! Watch the video of it below, I win around the 3:53 mark.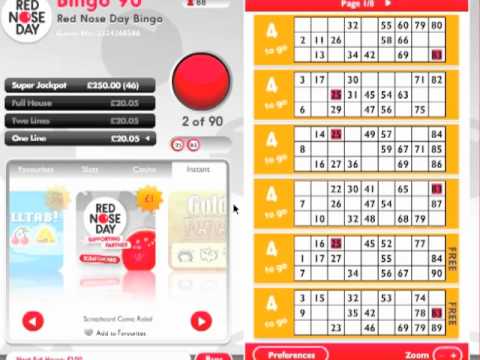 It's that time of the year again when the UK goes Red Nose crazy, raising money for fantastic causes at home and around the world. Red Nose Day 2011 is on Friday 18th March and what better way to join in the fun and raise money than playing the official Red Nose Day Bingo game.