Looking to kill some time and have some fun? You can play golden balls for free or for real cash online!
Golden Balls game can now be played online from the comfort of your home, its just like the TV show and you could win £1000′s today. Is it your lucky day?
The TV show Golden Balls is a really enjoyable game to watch, but it's even more fun to play. This online version is just like the TV show, you can win big playing and you have to make that crucial decision at the very end.
Sign-up and play Golden balls for free, in seconds.
Will you split or steal?
Just like the game show the online version of Golden Balls asks you the question – Will you split or steal? If you choose to split and so does the other player then you will split the final amount. However if you choose to steal and so do they neither of you will go away with any money.
Where can I play the best online version of the Golden Balls Game?
There are three great sites where you can play this game online, Jackpotjoy, PaddyPower and William Hill. All are well known sites which promise to be safe and secure. For more information see the table above – just take a look at the sign-up bonuses including a free £10!
The format is identical to the TV show with the aim of the game to eliminate those pesky killer balls. Even if you have never watched the TV show it won't take you long to be a golden balls expert.
Like the TV version you start against 3 other opponents however unlike the TV game you are always guaranteed to make it though till the end. All you have to do is eliminate the opponents you think have the most killer balls.
Don't forget your great sign-up bonus!
There is really not much difference between these two versions of the game, however Jackpotjoy are offering a great sign-up bonus. When you deposit £10 or more Jackpotjoy will double that amount and add it to your account, this is a must for anyone wanting to play this game online.
(Watch me play the game online and actually win!)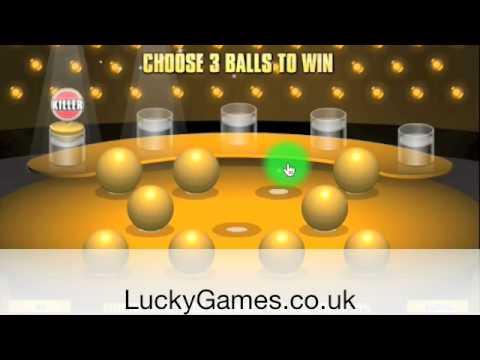 Update: This a really fun game, unfortunately Golden Balls is now longer aired on ITV daytime television. However you can still tune into Challenge TV to watch the game show if you have digital TV and you can of course still play this fantastic online version of the game.