Deal or no Deal is an international T.V show which is watched in over 60 countires. The game show was originally created by Dutch T.V company Endemol, who has also created popular programmes such as Big Brother and Who Wants to be a Millioniare.
The U.K version of the game show is shown on Channel 4 and hosted by Noel Edmonds. The format of the game is similar in all countries however the number of boxes and contestants can vary from country to country.
In the U.K contestants have 22 boxes with the top prize being £250,000.
Would you like to beat the banker and play deal or no deal? Maybe you want to apply to be a contestent, choose from the list below.
You can also watch DOND online, The Channel 4 website lets you watch any show shortly after it is aired on T.V. Youtube also hosts an archive of DOND games. There is definitely no excuse to miss an episode.
Play the Deal or no Deal online game and you could win real cash.
Find out about Deal or no Deal winners both online and from the T.V show.
There is also a brand new Deal or no Deal Bingo game which is fast becoming on of the most popular DOND games online.
Live the dream and beat the banker, find out how to apply to be a contestent.
Aim and rules of the game
At the start of the game a chosen contestant and their box numbered between 1 and 22 joins Noel in the "hot seat". It is the players goal to sell his or her box to the banker for the largest amount of money.
The contestant must eliminate the other 21 boxes one by one, at certain points in the game the banker will offer the player a cash sum to buy their box. The player can either choose to accept the offer (deal) or play until the very end where they will win the amount in their box. You can find out more about how to play DOND on the official wikipedia page.
DOND is certainly a very original game and their is no better way to see how it works than to watch it!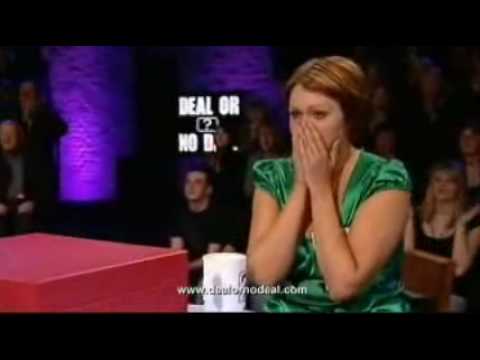 There is lots of information online about deal or no deal you can even play the game online and win real cash or apply to be a contestant yourself.
Let's hope the banker does not go bust and keeps this great show going!